teva - Organisation
Transferpressen - Textiltransfer - Spezialmaschinen
AUSTRIA: A - 6020 INNSBRUCK, Pontlatzerstrasse 51b Tel.: +43 512 264111 Fax +43 512 264101
e-mail: office@teva-organisation.com
---
AUTOMATISCHE SUBLIMATIK ROLLENPRESSE MOD. TRANS 7360 + 7372
Rotary heat transfer printer type TRANS 7360 + 7372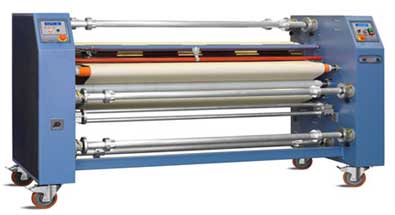 Schnelle Durchlauf-Sublimationspresse mit geringem Platzbedarf.
Besonders geeignet für den Sublimationsdruck auf Werbeartikel, Sportbekleidung, Fahnen u. ä.;
Digitale regelbare Durchlaufgeschwindigkeit; elektronische Transportsteuerung; 3-Zonen-Temperaturkontrolle;
Automatik-Stopp bei Temperaturabfall auf 80°C; Umrollsystem,
Elektronisch geregeltes Transportsystem, Arbeitsgeschwindigkeit bis 91 cm/Minute, Heizwalzendurchmesser 20 cm;
Arbeitsbreite 160 cm; Spannung: 380 V;
Modell TRANS 7372: Obiges Modell mit Arbeitsbreite 191 cm.
Rapid automatic rotary heat press with a small space area.
Specifically designed for the ink jet dye-sublimation transfer technology on promotional items, sportswear, flags a.s.o.
Digital variable speed control; Electronic belt tracking system; 3 digital zoned head control;
printing speed 3 fpm (91 cm),
Automatic "Switch off" when the machine reaches a temperatur of 176°F (80°C);
Diameter heated drum 8" (20 cm); Printing area 71" (160 cm); Current: 380 V,
Type TRANS 7372: Printing area 191 cm.

















Haben Sie Fragen zu unseren Transferpressen? Senden Sie ein e-Mail an office@teva-organisation.com
Have you a question about our systems? Please send an e-mail to